Blog
Take a quick look at the options below.  Choose one from each set of statements.  At least 51% of the time, do you tend to be more: __tactful and diplomatic or __direct and frank? __apt to avoid conflict where possible or __apt to meet conflict head on? __empathetic or __analytical? __accepting at first or __skeptical Click to continue reading…

Hungarian born Geraldine, was a cousin of enduring charm and beauty. King Zog of Albania saw her photo when she was 20 and invited her to visit his country. She arrived with her chaperones and, as he had hoped, fell in love. Their wedding was triumphant. 50,000 children in native costumes sang and applauded. The plot however turned. Less than a year later, still bleeding from the birth of her son, she was carried to a vehicle on a mattress and the couple escaped from the Italian invaders. She, the king and his entourage began an odyssey that would ultimately land them in Egypt at the invitation of King Farouk. It was there that I met her as a small child and was privileged to visit her in Alexandria each summer for the next 6 years.
Later we went our separate ways. My family emigrated to the US and she ultimately went to Spain after her husband passed away. Much to my surprise she contacted me after my US college graduation and asked whether I would be interested in joining her as a lady in waiting in Madrid. I spent a memorable year with her and remember well the many lessons she taught her "ladies" to help strengthen her position in Madrid. Click to continue reading…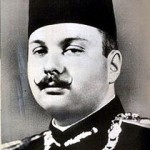 On a hot, humid evening in Alexandria, the dinner party rises from the table. Egypt in those days was a magnet for royalty in exile. On this particular evening, King Zog, the last ruler of Albania, is hosting dinner for Egypt's ruler King Farouk, the Queen of Bulgaria and several members of the Italian royal family in exile.
King Zog is married to my cousin, Hungarian-born Queen Geraldine, hence my attendance. At six I am fully prepped for the guests and keep my mouth shut. That is fine, however, since Zog, a thoughtful man, joined me in the palace gardens several hours earlier to chitchat. He asked about the ups and downs of my life in Cairo and injected some gentle humor. A calm and kind man, he made people of all ages feel special. Click to continue reading…
Better Balance = Wiser Choices By Dr.  Mary Lippitt There are no shortcuts to long-term success, and that's why balance is critical when it comes to the mindset of a leader. The recent worldwide recession has definitely impacted leadership thinking patterns. As many leaders seek to resolve internal issues through cost-cutting strategies, organization flattening and process Click to continue reading…
It is 6 pm and I am sitting with the South American ambassador for my monthly dinner. Once a month he invites me without my parents. I am 8 years old and the Cairo community smiles indulgently. He misses his kids is the word around town. So "my little one" he says with a warm Click to continue reading…
  By Judith E. Glaser,  www.conversationalintelligence.com – jeglaser@creatingwe.com I'm sure it's happened to you: You're in a tense team meeting trying to defend your position on a big project and start to feel yourself losing ground. Your voice gets louder. You talk over one of your colleagues and correct his point of view. He pushes back, so Click to continue reading…
by Nancy Ancowitz
Nancy Ancowitz is a business communication coach and author of Self-Promotion for Introverts®, a Publishers Weekly "best book" selection. A former Wall Street marketing vice president, Ancowitz teaches Presentation Skills for Introverts™ and communication skills at New York University. Her work has appeared in The New York Times and The Wall Street Journal online.
………….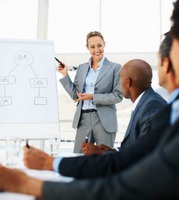 I have a cool tool to help you improve your presentation skills. First, what do you do with your hands when you give a presentation? Do you look like an orchestra conductor, a flight attendant giving safety instructions, or more like a mummy?
How about your voice? Does it go up an octave out of nervousness, flatten into a monotone, or do you blast through your entire talk in a single breath because you can't wait to get it over with?
Instead, I hope that you're comfortable with public speaking. And that your gestures, voice, and facial expressions are natural and in sync with your message. If not, you can get much more at ease as a speaker by… Click to continue reading…