Archive for January, 2013
by Nancy Ancowitz
Nancy Ancowitz is a business communication coach and author of Self-Promotion for Introverts®, a Publishers Weekly "best book" selection. A former Wall Street marketing vice president, Ancowitz teaches Presentation Skills for Introverts™ and communication skills at New York University. Her work has appeared in The New York Times and The Wall Street Journal online.
………….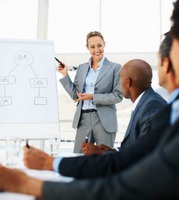 I have a cool tool to help you improve your presentation skills. First, what do you do with your hands when you give a presentation? Do you look like an orchestra conductor, a flight attendant giving safety instructions, or more like a mummy?
How about your voice? Does it go up an octave out of nervousness, flatten into a monotone, or do you blast through your entire talk in a single breath because you can't wait to get it over with?
Instead, I hope that you're comfortable with public speaking. And that your gestures, voice, and facial expressions are natural and in sync with your message. If not, you can get much more at ease as a speaker by… Click to continue reading…