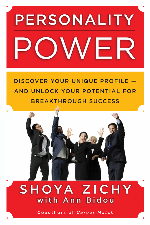 The key to enjoying your work life and boosting your career success lies in knowing your core strengths and then making the most of them. Are you an introvert or an extrovert? Grounded, realistic and accountable? Competitive and theoretical? Spontaneous and action-oriented? Creative and empathetic?
Based on the easy-to-understand "Color Q" model of the four major personality groups, Personality Power identifies your natural abilities and reenergizes your professional life.  Over 90,000 professionals worldwide have taken the simple, ten-minute self-assessment to determine their personality type.  When you do, you'll discover how to:
Effectively communicate and coach others of different styles
Resolve conflicts more quickly and permanently
Identify your ideal (and least preferred) work environments
Confront and conquer potential blind spots associated with your type
Devise a career plan filled with concrete steps for achieving your goals
Featuring in-depth chapters for each personality type, helpful charts, exercises, and inspiring success stories, Personality Power includes profiles of well-known figures such as Diane Sawyer, Dr. Mehmet Oz, NY Congresswoman Carolyn Maloney, the late Ed Koch, Hillary Clinton, Judge Sonia Sotomayor and Warren Buffett.  The book reveals your innate natural talents for approaching innovation, dealing with difficult colleagues and clients, negotiating compensation, and self coaching your way to greater success.
The good news is you don't have to find a new job to be happy at work.  Use Personality Power's life-altering insights to achieve the fulfillment and recognition you deserve…just by being yourself.
"Personality Power is like a wise career adviser at your fingertips."
Nancy Ancowitz, business communication coach and author of "Self Promotion for Introverts®."
[sexybutton size="xl" color="blue" url="http://www.amazon.com/gp/product/0814421237/ref=as_li_tl?ie=UTF8&camp=1789&creative=9325&creativeASIN=0814421237&linkCode=as2&tag=wwwcolorqpers-20&linkId=5A74MA5EUXJVPJYW" icon="cart"]Order now via Amazon[/sexybutton]
Awards For "Personality Power"
| | |
| --- | --- |
| 2013 USA Best Book Awards sponsored by USA Book News, Winning Finalist | 2014 Nautilus Book Awards, Silver Winner |
| 2014 National Indie Excellence Book Awards Winner | 2013 Foreword Reviews Book Awards, Silver Winner |